Bullish Currency For Amazing Passive Income
What Is Bullish Currency?
Bullish Currency is a community of Professional traders helping regular people become wealthy with multiple income streams while learning lifetime beneficial skills. Whether you are new or experienced to foreign exchange, cryptocurrency, or other passive income strategies all members can benefit from this community.
Bruce Neil is the Founder and Creator of Bullish Currency Community. He is devoted to helping everyone who joins to be successful in their ventures to become wealthy entrepreneurs. Offering new innovating upgrades and services to this community on a regular basis. After you become a member you will automatically get a free one on one with Bruce to go over your goals and to answer any question or concerns you may have.
What Does Bullish Currency Offer?
9-28-2022 UPDATE:
NEW WEBSITE IS COMING AND THERE ARE MORE NEW OPTIONS FOR COPIERS!! Some prices have changed as well but have only been made to a lower and even better cost for you. I will update more as our group grows on this page with the Introduction to Bullish Currency Video here. I have also included the current link to Join next to the video.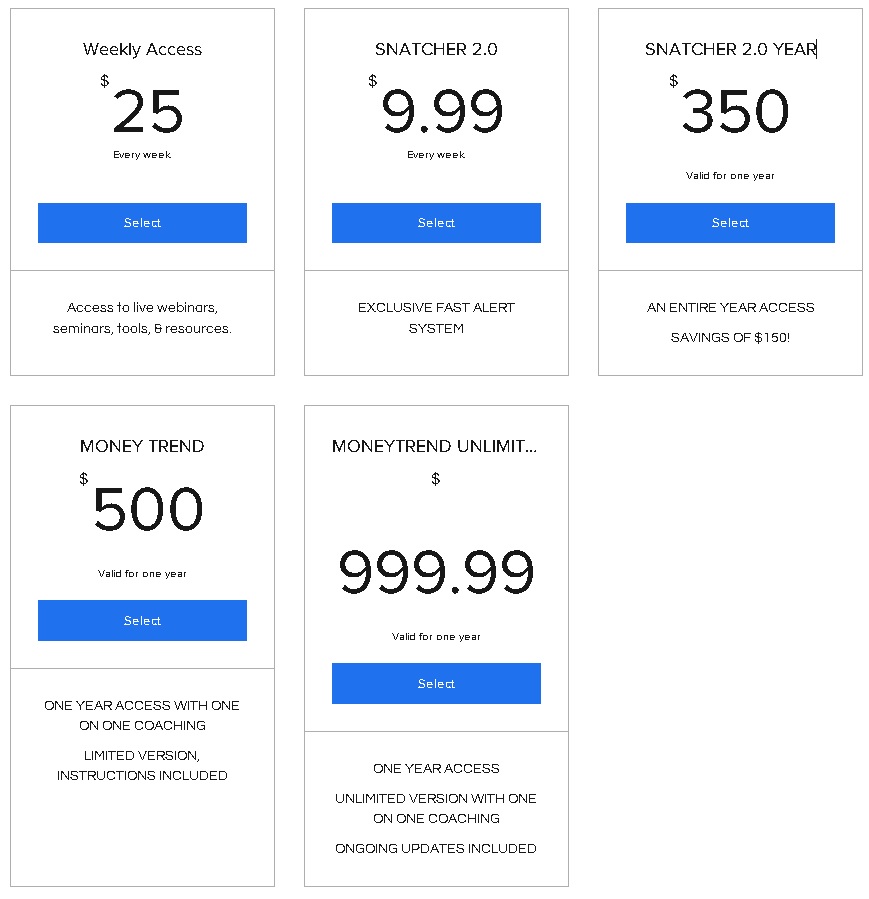 Weekly Access gives you everything you need to get started even if you are a beginner or an advanced trader. As a member you can invite others to join, It is an invite only group, so you will then need to email me at shaun@quitting925.com to get access to the Discord platform. This is where all the magic happens. Discord is free to download and easy to setup for alerts on your mobile or desktop devices. The link I will give you in the email will allow you to purchase everything above.
Once you are on Discord visit the menu on the left sidebar to find the Fast Setup getting started guide with videos and information. Everything to help you setup and prepare yourself to trade. Over 20 very informative videos available to answer all the questions you may have, I highly recommend watching them all. I had to watch a few multiple times to really understand because it is a lot of information to take in.
Live Dow Jones – Forex Signals – Crypto Signals
You will get real-time trading signals everyday that the markets are open. Every morning at 8am Eastern time Bruce announces US30 or commonly known as the Dow Jones, live signals to buy or sell using risk management lot size, entry price, stop loss, and take profits. Occasionally there will also be given Gold, Crypto Bitcoin, Etherium, and XRP(Ripple) signals.
Another professional trader, Curtis, will give signals for forex pairs as well. Both Bruce and Curtis provide Zoom calls multiple times a week to go over the market forecast, up and coming trades, as well as live trades during the call. Pam teaches Crypto Analysis on Zoom calls and gives signals and forecasts as well.
Josmarie provides Zoom calls to show you how to discover new Crypto Presale coins. She will list her best potential Gems that haven't even been placed for sale just yet. She has a knack at finding presale crypto coins that can make 50-500%+ gains within just minutes, hours, or days of being put on the public platforms to buy. Get in early with presales to possibly make quick amazing profits!
Check out the schedule pictured below to see when these Zoom calls happen. Be sure to get your notepad out for these calls as they can be very educational.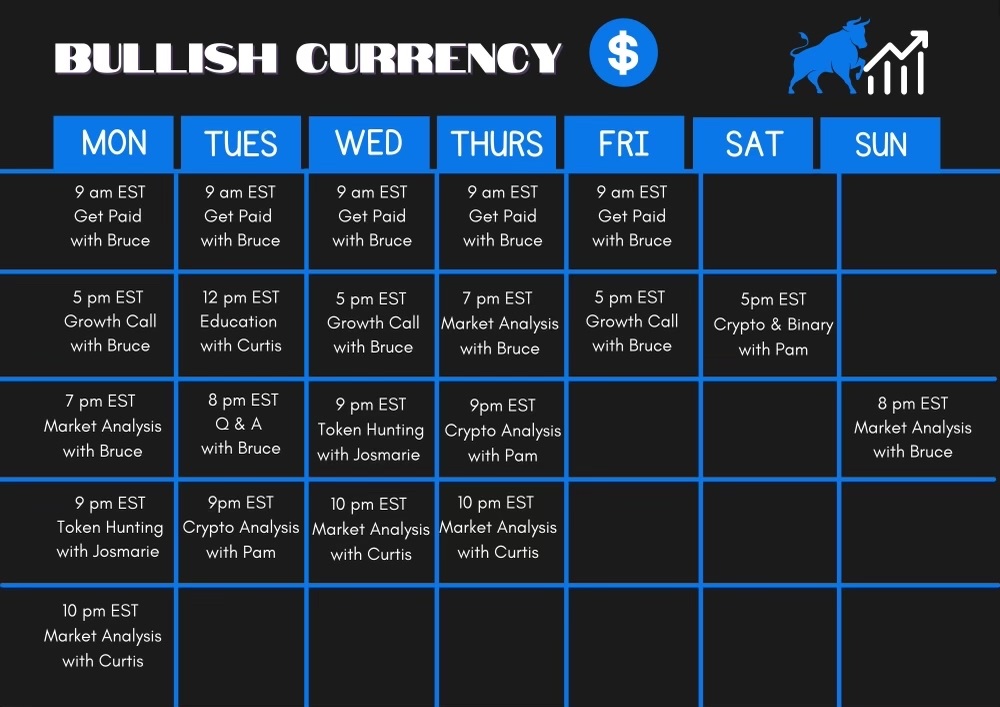 Bag Snatcher 2.0 and Money Trend Bot
The Bag Snatcher 2.0 is a special indicator made exclusively by Bruce that works with Tradingview to use for Options Trading on brokers like Pocketoptions or Raceoptions(no longer available). However, this indicator is so awesome you can use it on higher time frames like 1hour and daily for swing trades too! You can set alerts for whatever pair you want to use it on in Tradingview so you can receive a popup, sound alert, or text sms on your phone. The Bag Snatcher 2.0 indicator is truly a game changer! Comes free if you are a weekly member. Check out the video below to see how it works.
The Money Trend bot is no less of a game changer when it comes to fully automating your trades. This is the newest addition to Bullish Currency, so new I haven't even had a chance to try it out yet! Here are some screenshots below on some small accounts members have posted in Discord to show how well it has been performing. Click each image to see the profits made…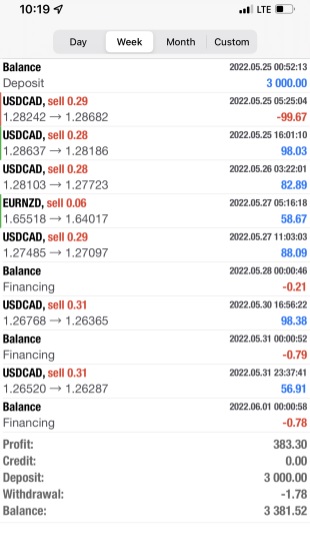 New Super Cool Magic Entries Indicator and Strategy
Check out this amazing new strategy with the Magic Entries Indicator. As with several other indicators this one is also free for all paid members. See how simple and effective this strategy is in the video below. It will blow your mind and not your account!
The Bullish Currency Community Affiliate Program
Do you know anyone that also wants to learn a lifetime skillset to having multiple streams of income? Bullish Currency offers an Affiliate Program for you. Get just four people signed up for the weekly access and your membership is now paid for! If they signup for any of the other packages this could potentially make you another nice passive income.
Of course this is totally optional but it's a great addition if you have friends or family that are interested. If someone you signed up has anyone else signup under them you will increase your earnings. This tier structure goes 6 levels deep! This can add up real fast if you are good at sharing or promoting this program.
Bullish Currency In Conclusion:
As a member for nearly 5 months, at the time of writing this review, all I can say is I am truly grateful to be a part of this community. I have learned so much while having a ton of fun doing so. My hats off to Bruce for creating such an amazing group! I have joined countless other forex signals groups and tried multiple trading bots with little to no progress.
Although this may not be for everyone as it does take a certain level of discipline and an understanding of risk management. I do believe with the right mindset and goals almost anyone can do this and be successful. If you think you have what it takes to learn how to trade I highly recommend you join today! It's only $25 per week, cancel anytime, and if you don't like what you see I will seriously be surprised. Just email me shaun@quitting925.com for more info or watch this video and JOIN HERE. I will reply within 24 hours or less.