Intelligence Prime Capital – Genius Bot
Update!! No longer supported for people in the United States!
If you want a real trading bot consider checking out the Bullish Currency Money Trend bot You will have one on one support and total control of your money using your own broker. Much less risky than many of the high risk high reward platforms that can disappear with no notice at anytime.
Despite being a new company, Intelligence Prime Capital has a stellar reputation so far. The company is an international Fintech firm that offers a range of investment services around the world. Its offerings include quantitative trading, leveraged AI/BOT trading systems, enterprise management software, cloud storage, and automated trading services. These services are offered to both individuals and businesses. The company IPC claims to have more than 300,000 satisfied customers. Its website makes the company look like a reputable and legitimate company. However, you should be aware of the risks associated with this company and only invest money that you are ok with being without in case something goes wrong.
Is Intelligence Prime Capital A Scam?
While there are some concerns with this company's business practices, its ease of use and transparency are its strongest points. It is easy to use, and it offers a variety of trading options. Whether you want to invest via personal trading or copy trading, IPCapital offers a number of options for you to get started in the industry. Its platform also allows for AI Bot and personal trading. In addition, it offers a range of regulated services, including an MT4-compatible trading platform.
As far as IPC being a scam, so far everyone has been able to make successful withdrawals. They did have an issue with withdrawals a few weeks back but they fixed it and addressed it very quickly. They also were interviewed and asked about it in the video below. The Marketing Director seemed pretty honest and concerned about solving the issue right away. He also said the company is expanding and growing with new products as well.
The Genius Bot on IPCapital
The platform uses a patented AI Bot system. Its trade efficiency is based on the amount of money invested by you and/or your personally recruited affiliates. Depending on the type of AI Bot system used, the highest percentage is with the Genius Bot, your ROI will vary. The Genius Bot is a one time fee of $100 and minimum deposit of $100 to start making the trades with. This is the best option for your money.
I bought the Genius Bot and funded my account with $150 to start and after just one month I am already close to $200 which I will continue to compound for a few months before I plan to withdraw any of it. That's $50 pure profit for not having to do a thing. I can see the trades made, 3 scalp trades, everyday the forex market is open and so far I haven't seen one trade with a negative profit. Check out the picture below of recent trades screenshot.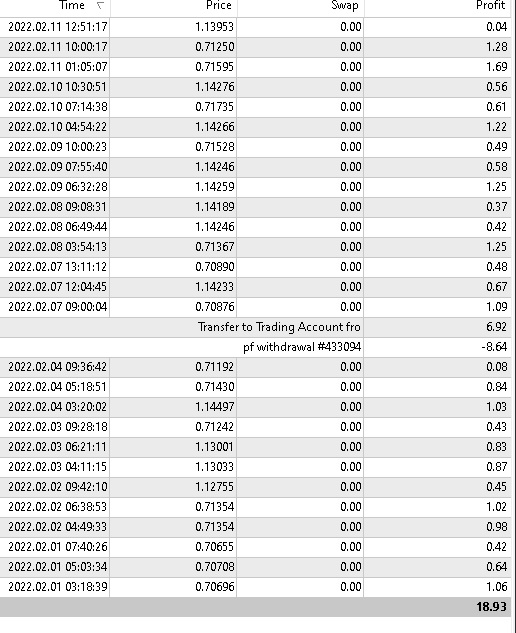 In addition, Intelligence Prime Capital claims to be regulated in the United States, Japan, Australia, and South Africa. The company is registered as a money service business in the United Arab Emirates. It follows strict regulatory and compliance requirements. Visit their website here… Intelligence Prime Capital
Disclaimer: This is not financial advice and always do your own research or consult a professional financial advisor before investing in anything. I am just sharing what I am doing to become financially free for educational purposes only.