Top High Reward BNB Crypto Mining Bots For 2022
Below are the current BNB crypto mining bots that I have invested in. These mining bots are high-risk high-reward type investments. I am not saying anyone should invest in them, I am only sharing what I am doing and my investment strategy with them. I am not a financial advisor and you should always check with your advisor before making investments. Never invest in something like these miners with money you are afraid to possibly lose.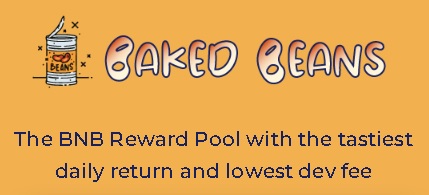 The original BNB mining bot is called Baked Beans and has been running for 177 days at the time of this post. It has made many people a nice ROI and some have claimed it made them rich! I have invested in Baked Beans as well more recently. This miner makes 8% daily returns on whatever amount you deposit. There is a 3% fee for all deposits and withdraws for the developer.
How To Buy BNB Crypto For The Miners
Like many of these miner bots you will need to deposit the BNB crypto coin which is easily purchased from many crypto exchanges like Kucoin or Binance. If you prefer not to use an exchange I have found Moonpay to be a great option as far as fees and security are concerned, plus they accept a regular credit card while most exchanges require using your bank or debit card only.
You will also need a crypto wallet to connect to these BNB crypto miners like MetaMask. Just download it to your phone or computer. Here is a great video on youtube explaining exactly how to set it up and keep it secure(very important). Next you will want to add the Smart Chain Network to your MetaMask, here is a simple video showing how to do that as well.
Top 5 BNB Crypto Bots I Am Using
My favorite so far is Solar Farm because they seem to have a roadmap for long term. To me this means I will be more likely to make my money back and then some. They are doing 15% daily compounding with 6% buy and sell fees.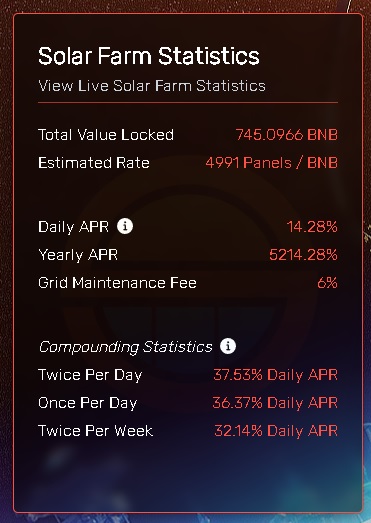 As with most these miners the suggested compounding once or twice daily for 6 days then collecting your profits on the 7th day for maximum reward, This method works very well by the way. Make sure to leave a few dollars of BNB in your wallet after buying a miner so you can make the compounding transactions which usually can cost .05-.25 cents per.
4 More Crypto Mining Bots
The 4 miners I link to below are also ones I have invested in and so far working great for me. Always do your own research if deciding to buy into one the BNB miners to make sure they have a good supply of BNB in their contract. I like ones that also have a twitter or telegram that they can interact with us on for updates.
My second favorite: Roast Beef 10% Daily 3% Dev fees
My third favorite: CZ's Kitchen 8% Daily 8% Dev fees
My forth favorite: Grinch Bucks 8% Daily 3% Dev fees
My fifth favorite: Tegridy Farms 8% Daily 4.2% Dev fees
Be sure to leave in the comments below any of the success from these BNB crypto mining bots. If you have questions you can email me at shaun@quitting925.com and I will get back to you within 12-48 hours usually.